Smudging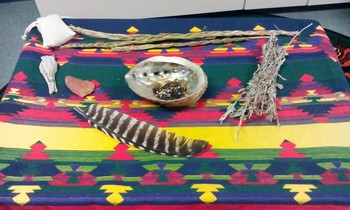 Smudging is available every morning from 8:35 - 9:00 am.  
Dancing
Every Monday at lunch hour, students are invited to come dance.  Many students partake in this weekly and teach others how to do the various types of dance. 
Drumming and Singing
Twice a month Kevin Littlechild comes and teaches the boys the respect of the drum and singing.  Kevin works very well with the boys and great relationships are made from this.  We have students from grades 3-6 in our drum group.  Some of which had the honor of drumming at the Treaty 6 Flag raising at Division Office earlier this year! What an honor!
Grade 6 Leadership Group
Some of our grade 6's have signed up to be our leaders of tomorrow in the community.  Partnered with Wetaskiwin District and Community Services, the grade 6's visit this organization once a month in the afternoon and are learning about individuals affected by disabilities.  Through this partnership we are creating knowledge and understanding, friendships, career paths and having lots of fun!  In March, the students read a variety of books to their new peers, shared snacks and lots of laughs!
Healthy Living
I have been very lucky to have not one but two tower gardens in my classroom.  Together with the students we have made salads, grown peppers, sage, cucumber, broccoli, tomatoes, beans and have just started some strawberry plants.  The students are getting first hand fun and experiences with the tower garden and get to eat what they reap!
Cree Leadership Group
After school on Thursdays, 16 girls, grades 5-8 meet and are learning how to make ribbon skirts.  There is much value behind this with the first hour of sewing and the second hour of Tipi Teachings provided by Elder Lorraine White.  The girl's are gaining knowledge and friendships.  What a wonderful way to spend an evening!
Beading
Trying to pick just one day a week to bead is not a reality so we bead as much as we can when we can!  Many of the students have been beading here since it started 5 years ago and have become amazingly imaginative in their work.  They are doing so great that some of them have started an entrepreneurship.  They have taken orders, created artwork and sold it.  There are around 20 projects going at any time and the sky is the limit!  In this space I am in love with each moment as the students share their talents, create friendships, play a part in many roles and know patience is a virtue.   
Centennial Peacemakers
Centennial Peacemakers motto is 'Be the Change You Want to See'.  A group of grade 5 and 6 students have been working hard at learning conflict resolution skills.  They share these skills with everyone and are continually growing.  At recess time, teams go out at recess and work towards mentoring younger students to make good choices and have fun!